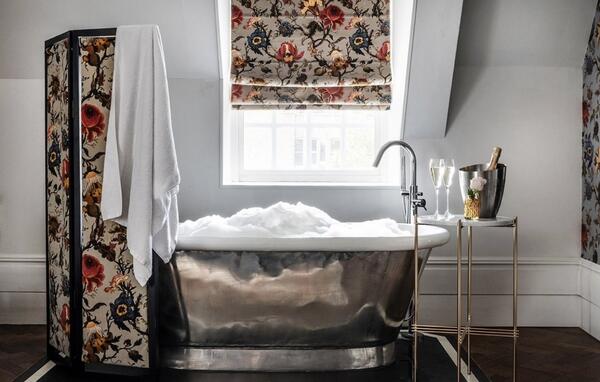 Central London hotels to stay in while you house hunt
Pounding the pavements of central London searching for the right house to buy can be hard work. Make it more of a pleasure than a chore with a night or two in one of the hot hotels below
The Bloomsbury Hotel, Bloomsbury
Perfectly placed in the cultural capital of London from which it takes its name, home to tree-lined squares once home to Virginia Wolf and Oscar Wilde, The Bloomsbury Hotel is a must-stay. After a night or two in the 1920's Edward Lutyens designed building, you'll find yourself stealing style tips such as parquet flooring, statement wallpaper by Colefax and Fowler and inky blue painted panelling. Then there's the public spaces – the luscious Coral Room, named for its nail-varnish bright coral walls; the Seamus Heaney Library nodding to the area's literary heritage and the romantic flower-filled, secret-garden-style, glassy-roofed Dalloway Terrace will soften the heart of the hardest person. Can't sleep? Stay up late in the dark and moody late-night bar. Whenever you rise, staying within walking distance of the British Museum, the British Library and Covent Garden will show you the joys of living in this literary pocket of London
Dorset Square Hotel, Marylebone
Marylebone is a much-loved mix of residential and retail spread across the Georgian redbrick townhouses. Its most famous resident isn't real – Sherlock Homes of Baker Street – but he still adds a certain cache to the area. Marylebone High Street is an urban villagey mix of restaurants, boutiques and high-end hotels. Here, Firmdale legends Tim and Kit Kemp opened their first hotel in a prestigious square home to the first Lord's cricket ground – unafraid to theme, cricket bats and balls are placed around the hotel. Dorset Square's simple stucco and brick Regency townhouse exterior provides no clues as to Kit's trademark mix of bold and busy fabrics that will wrap guests up in her new interior collection. Yet there are unexpectedly muted rooms, such as the Marylebone lined soft grey suit fabric, livened up by colourful book spines in the library. Dine in the Potting Shed, a soft green-themed, plant-filled space, ramped up by South American style fabrics and lime and lemon leather on stools. And if that isn't inspiration, I don't know what is.
The Mandrake, Fitzrovia
Converted from a pair of office buildings once home to a TV production company, The Mandrake suits Fitzrovia's energetic blend of heritage and contemporary developments attracting new media companies by the day. The deliberately understated timber façade, reached via gates off Newman Street, belies the interior, surprising guests with a three-storey jasmine and passion-flower-draped vertical garden hanging over a trio of decked terraces. If your salary affords a marble courtyard just like this one, go forth and copy. The same goes for owner Rami Fustok's pricey art collection that includes pieces by Salvador Dali. Some rooms are dark and boxy – other's padded-ceilinged bordello style – but lighten up into more traditionally pleasing spaces lined with soft shades of pistachio or orange across glamorous drapes and beautifully patterned rugs. Rooftop views encompass London's stellar skyline, reminding you why you're buying here in the first place.
Kettner's Townhouse, Soho
Part of Nick Jones' Soho House empire, Kettner's Townhouse occupies several Georgian townhouses in the beating heart of Soho, not far from Soho Square. You're here because you love the 24-hour nature of London's naughtiest neighbourhood, still cultural with some of the capital's best restaurants theatres and museums. Naturally, there's a glamorous circular marble Champagne Bar (proffering Ruinart) lovelier for its original floral plasterwork and period mirrors and a 1920's-inspire Vinyl Bar. Lined with versions of the original Georgian wooden floor and fireplaces, pretty wallpaper and velvet sofas, rooms range from Tiny to Big and contain home-from-home elements such as Roberts radios and hot water bottles. Perfect if you're feeling homesick.
NoMad, Covent Garden
Buying a home involves lots of legalese, so maybe it's fitting to stay in a former Magistrates' Court. Although a night or two at the newly opened NoMad, sister to The Ned, is hardly a punishment. The Victorian façade remains the same, the real transformation within draws on Covent Garden as much as the history of Bow Street Magistrates' Court with nods to New York. So, you'll see evocative photos of Covent Garden, post-war American art and fireplaces in rooms that are as busy as the nearby Piazza, with Bakelite phones, upholstered tub chairs, lacquered furniture and fringed velvet stools. The Royal Opera Suite's copper-bottomed tub reveals the curved glassy roof of the neighbouring Royal Opera House. Who won't envy the emerald-green banquettes in the main restaurant, flanked by a lush three-story atrium, and add them to their Pinterest mood board for when they find the right home? And if it all gets too much, head to the health spa for a two-hour face and body Odyssey treatment.
For properties in central London, expert advice and more useful blogs see Hudsons Property