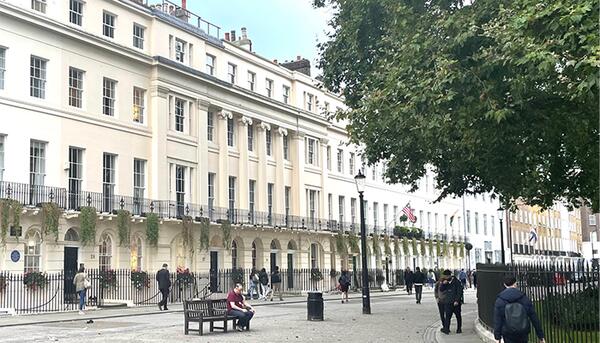 Leafing through Bloomsbury: London's Literary Square Mile
London has a rich creative and artistic history and has been home to many iconic names throughout the past – perhaps even more so today with the growth of celebrity culture. But in such a historic city there is something to discover around every corner, and we're focusing on the picturesque Bloomsbury.
We have the inimitable British Museum situated in Bloomsbury and the district's tree-lined squares have been the backdrop to many famed stories throughout the years. The West London district is one of the most celebrated hotspots of creativity thanks to its hub of iconic literary giants, including Virginia Woolf, Oscar Wilde and Charles Dickens.
The History of Bloomsbury
Despite its clear residential past, Bloomsbury was once an agricultural area before developments by the Duke of Bedford began in the 17th century. The Duke had a dream to transform the area into a residential estate and he combined efforts with his brother until the land north of Russell Square was filled with the numerous garden squares and townhouses that define it today.
Little did the Duke of Bedford know at the time, but he was creating a future hotbed of literary stars. The residents of these leafy squares played a huge role in shaping Bloomsbury's story.
Known as The Bloomsbury Set, a group of creatives in the form of writers, philosophers, artists and intellectuals would begin to live, love and work here. This bohemian group of acclaimed creatives were not only active in making history, but they also became embroiled in each other's love lives, earning the reputation as a group "who lived in squares but loved in triangles."
Visit the homes of Virginia Woolf and Mary Shelley
Bloomsbury is an iconic place for female literary icons, with Fitzroy Square being home to Virginia Woolf and Tavistock Square where Mary Shelley once lived. It's easy to see why the pair of authors were attracted to the area, with a great overview of Bloomsbury and its genteel nature.
Woolf took up residence at 29 Fitzroy Square from 1907 to 1911 in what is now the last remaining complete Georgian square in London. Fitzrovia remains an exclusive part of the capital and modern-day residents of luxury apartments in London include A-lister Guy Ritchie.
Woolf moved around and lived in several locations around Bloomsbury including Gordon Square Garden and Tavistock Square.
There are a host of blue plaques here to commemorate Woolf's life, such as at 46 Gordon Square Garden, which was also the former residence of economist John Maynard Keynes and Woolf's sister, artist and painter Vanessa Bell. Mary Shelley, the author of Frankenstein, is another famed resident of this London location having lived at number 87 with her husband Percy.
A Georgian goldmine
As Bloomsbury was developed largely during the Georgian era, it's fair to say there are plenty of understatedly elegant and generously proportioned buildings here. Just a few steps beyond Tavistock Square, we come to Cartwright Gardens, which curves pleasingly around a classic Georgian crescent of Grade-II listed houses.
Cartwright Gardens are named after John Cartwright, a political reformer and abolitionist, and you can find his statue, erected in 1831, among the trees of this green space. Students fortunate enough to reside at UCL's Garden Halls enjoy tennis courts, a games room and even a cinema.
Bernard Street is a short trip back along Marchmont through the Grade-II listed gardens of Russell Square that were designed in 1800.
But, while its history is important, this area of Bloomsbury isn't stuck in the past. Just ten years ago the gardens underwent a makeover that included new planting, a 10m-high fountain and the inclusion of Caffè Tropea – a glass-walled haven perfect for reading and appreciating the works of Bloomsbury's most famed creatives.
The British Museum
Located next to Russell Square, Great Russell Street is where you will find the British Museum, where refurbishments to faithfully restore the grand building began in 1999. With the recent addition of a multi-paned glass and steel roof designed by celebrated British architect Norman Foster, the museum's Great Court needs to be seen to be believed.
The British Museum is regarded as one of the best in the world, and as one of the UK's most-visited attractions, it draws upon a rich and varied collection to entice people in. Historical figures who have studied in the museum's now-closed Reading Room include Karl Marx, Sir Arthur Conan Doyle, Oscar Wilde, Sylvia Pankhurst, Bram Stoker, Joseph Conrad, Lenin and George Orwell.
Eating and drinking on Great Russell Street
Great Russell Street has more to offer beyond the British Museum. The Bloomsbury Hotel is housed in a Grade II-listed building created by Edwin Lutyens and is the perfect escape for food and drinks, just two streets over from Bedford Square. Lavishly renovated last year by design house Martin Brudnizki, guests are cocooned in luxurious references to the area's literary heritage.
To transport yourself into one of Woolf's novels, visit the romantic Dalloway Terrace for al fresco dining in an eatery named after the eponymous character Mrs Dolloway. It's perfect for ladies who lunch with its pinkish blooms and afternoon teas. If you are looking for something a little stronger, sip cocktails named after the famed Bloomsbury Set in the art deco-inspired Coral Room.
If you're now inspired to find a luxury property in London, take a look at our collection of characterful and charming properties for sale in Bloomsbury and get in touch with the team at Hudsons Property.