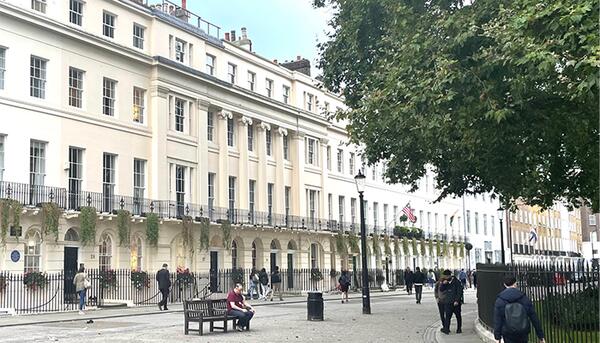 Leafing through Bloomsbury: London's Literary Square Mile
Famous for the British Museum, abundant tree-lined squares and 20th century writers, like many areas of London, Bloomsbury has a rich history and a rich present, frequented by 21st century locals, students and tourists.
Once an agricultural area, in the 17th century, the Duke of Bedford began to develop Bloomsbury into a residential estate, continued by his brother until the land north of Russell Square, the focal point, was filled with the numerous garden squares and townhouses that define it today.
The residents of such squares would play a big part in Bloomsbury's history. The Bloomsbury Set, who gave the notoriety to the area, were a group of bohemian British writers, intellectuals, philosophers and artists who lived, loved and worked here. Due to their tangled love lives, they were once memorably described as a group "who lived in squares but loved in triangles."
For a good overview of the area that straddles genteel yet new-media packed Fitzrovia stroll from 29 Fitzroy Square, the last remaining complete Georgian square in London, where Woolf lived from 1907-11 (modern-day residents of surely Fitzrovia's priciest address include Guy Ritchie). Crossing over Tottenham Court Road, you'll pass Gordon Square Garden, the centre of literary Bloomsbury, where one of many blue plaques remind that Woolf also lived at number 46 (as did economist John Maynard Keynes and Vanessa Bell) and Tavistock Square, where she later moved, on your left before turning into Marchmont Street. Here, Frankenstein-author Mary Shelley lived at number 87 with her husband Percy.
A few steps on and Cartwright Gardens curves around a classic Georgian crescent lined with handsome houses, which morphed from Regency residences for the middle classes to hotels, many of them Grade II listed. Named after the political reformer, abolitionist and resident John Cartwright, his statue was erected here in 1831, joined by tennis courts for residents including the lucky students at Garden Halls, good-looking contemporary accommodation with a cinema and games rooms.
Head back along Marchmont to Bernard Street, cutting through the lush swathe of Russell Square, London's second largest, the grade II listed gardens landscaped in 1800 by designer Humphrey Repton. Busy with students heading to UCL and tourists off to the British Museum, the area doesn't rest on its leafy laurels and has been refined over the years. Ten years ago, a makeover brought new planting, a 10m-high fountain and the lovely glass-walled Caffè Tropea, bringing Italian flavours to this corner of the capital. On the western corner, a tiny green shed is one of the 13 Victorian black cabmen's shelters left for weary drivers to stop for a discounted fry up and a mug of hot tea.
On the eastern corner of Russell Square, the undeniably impressive 19th-century terracotta, turreted exterior of the Kimpton Fitzroy is matched by the darkly opulent lobby, all marble columns and mosaics, to the almost-too light-filled Palm Court and the new Galvin Bar & Grill, dishing ethically sourced produce among sultry interiors lined with curved banquettes glamorous chandeliers and mirrored pillars.
Next to Russell Square, on Great Russell Street, the British Museum's refurbishment began in September 1999, adding the Norman Foster-designed Great Court's photogenic multi-paned glass and steel roof and now entering its final development phase. Regarded as one of the world's finest museums, Britain's most-visited attraction is home to over eight million artefacts drawing six million visitors a year. Historical figures spanning Karl Marx, Sir Arthur Conan Doyle, Oscar Wilde, Sylvia Pankhurst, Bram Stoker, Joseph Conrad, Lenin and George Orwell all came to the now-closed Reading Room to study, research and write.
Further along, The Bloomsbury Hotel looms large on Great Russell Street, housed in a Lutyens, Grade-II listed building two streets over from Bedford Square. Lavishly renovated last year by design house Martin Brudnizki, guests are cocooned in luxurious references to the area's literary heritage. The romantic Dalloway Terrace is an indoor-outdoor, all-season space decked with pinkish blooms and a glassy roof where ladies who lunch choose the delicate afternoon tea laced with tangerine cream and golden scones. Later, sip cocktails named after members of the Bloomsbury Set in the gorgeous orange-hued Coral Room.
If you're now inspired to move here, take a look at our collection of characterful and charming properties for sale in Bloomsbury click here Hudsons Property
Bloomsbury Festival 2021 runs from Friday 15 October until Sunday 24 October.