Dressed to Impress: Introducing Hudsons Home Staging Service
At Hudsons we are always looking at ways to increase the return landlords and sellers achieve, so that we can truly exceed their expectations on price, the calibre of tenants for landlords, along with buyers that are willing to pay premium price for a home they have fallen in love with at first sight.
Enter home staging. According to The Home Staging Association UK & Ireland, a staged home sells twice as fast as a non-staged home and dramatically increases viewings. Effectively, you're dressing your space so it appeals to prospective buyers (or renters), allowing them to imagine themselves cooking in the immaculate kitchen or enjoying a glass of wine in the relaxing living room. Think of it as selling a lifestyle. This has certainly proven to increase the price we achieve for our clients.
Buyers often pay an extra amount for the furniture and accessories, for that ready to move into designer interior, without the need to start from scratch. We work with prominent interior designers and furniture providers to make each home bespoke/tailor-made to your individual wish list. Turnkey properties are in great demand, especially with time poor professionals who need the whole process of sourcing and moving into a smart new home simplified with a property that ticks all the boxes.
Not only does this help with achieving record prices but it also increases the value of your investment/home.
Hudsons and The Space Consultancy offer sole agency sellers the opportunity to use our bespoke furniture sourcing service with individual furniture packs for clients, from landlords to international investors, with an exclusive 0% finance offer (subject to terms and conditions), please call 020 7323 2277 for more information or click here to make an enquiry (new home staging page link). We'll deliver, install, style and dress the property leaving it ready to be photographed and put on the market.
Take a tour of a few of our recent transformation projects….
Hans Cresent
Hans Crescent is an undeniably good-looking, period property with a prime location in a period mansion block in Knightsbridge. Add in high ceilings, a light-giving large windows and honey-toned parquet flooring and what's not to love? However, even a charming three-bedroom apartment within an easy stroll of Harrods needs a little help to bring it to market.
Watching our video reveals just why professional home staging is such an important part of presenting a property. Rich textures and colours – velvet and silks in jewel-like shades of emerald and sapphire – across luxurious sofas and beds add instant glamour, while the right artwork, objet d'art and soft furnishings are the icing on the cake. Every piece is meticulously chosen and placed for a tailor-made transformation.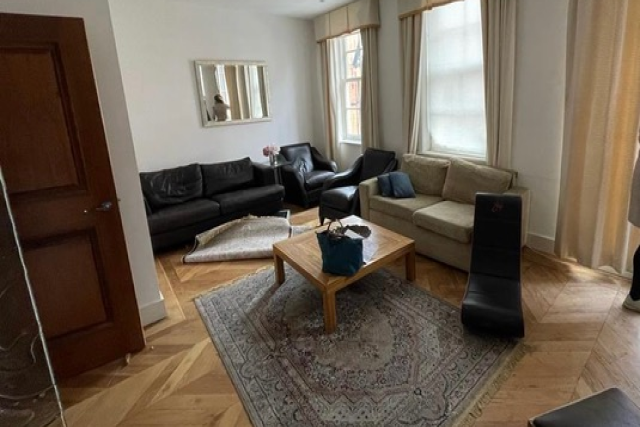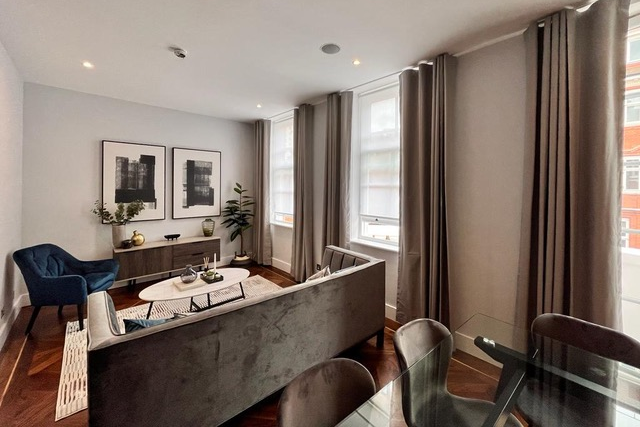 Cranfield Court
Another one of our prime properties, Cranfield Court in Marylebone also recently underwent a transformation. London-born actor and singer Mark Wynter rented the apartment out for 15 years until he recently decided to put it up for sale. But before it went on the market, he knew it needed a complete refurbishment with some professional staging as the icing on the cake.
The attractive one bedroom, second floor apartment housed in a handsome period block had location and character in its favour but it's doubtful it would have received an offer within a week of going on the market without post-renovation staging. The high ceilings and period charm were more noticeable once treated to fresh paint, new flooring, a sleek kitchen and bathroom topped by savvy staging.
Now it's bathed in soft grey and fresh white with pops of inky blue and warm wooden flooring. Colour and texture combine to great effect. The living room benefits from light-giving sash windows you can admire the southerly view from the on-trend sofa as well as attractive autumnal art and foliage. There's also space for dining at the well-placed glass table with grey velvet seating, while the refurbished kitchen is bright, white and neat with rooftop views. The result of such effort? The first buyer to view the apartment put in an offer close to the asking price and 5% higher than the last sale in the building.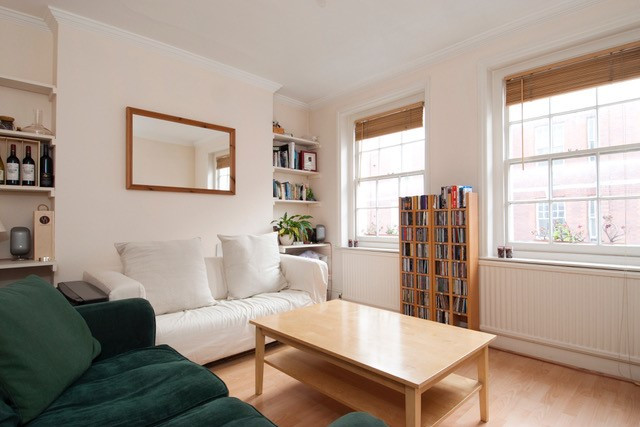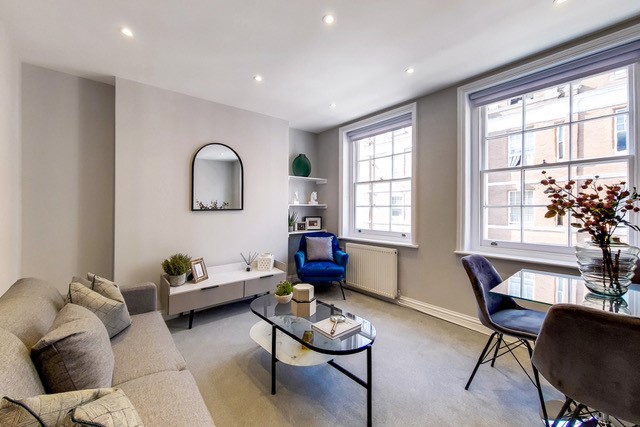 Hudsons Property home staging service is in collaboration with the Space Consultancy, specialists in sourcing furniture, interior design and installation services. Founded by Joanna Shear, the London-based company provides interior design expertise and an established network of trusted suppliers and manufacturers to provide a seamless specialist furniture sourcing service. Different categories of bespoke furniture packs mean individual landlords and international investors can achieve the perfect look for their property and their budget, whether an urban apartment or a townhouse.
See below examples of bespoke furniture packs to suit your budget, prices from £3,500.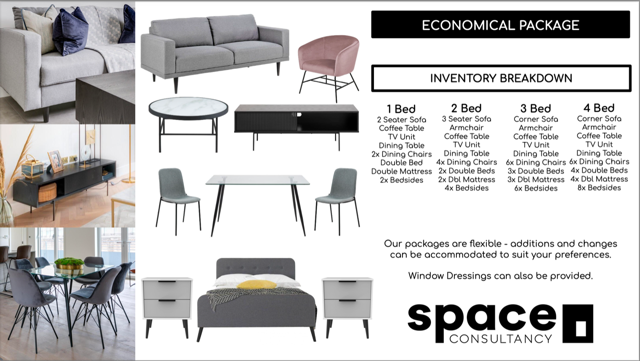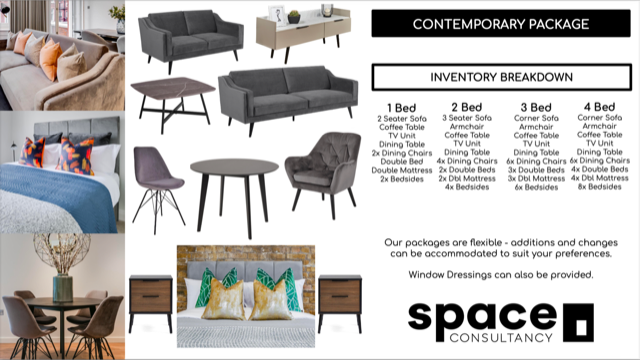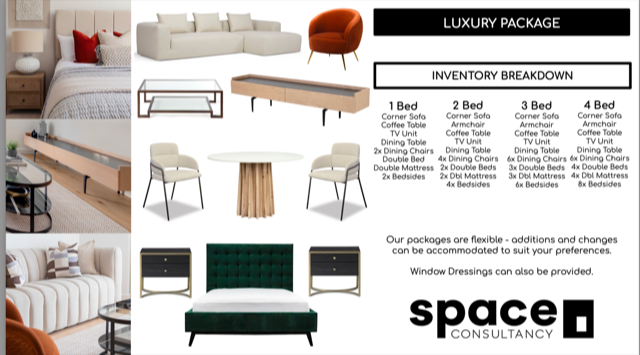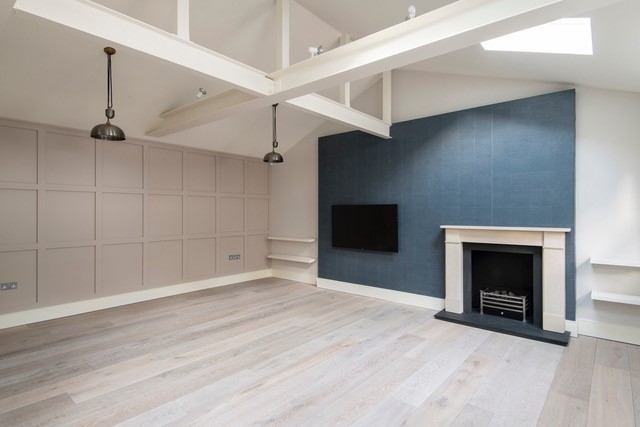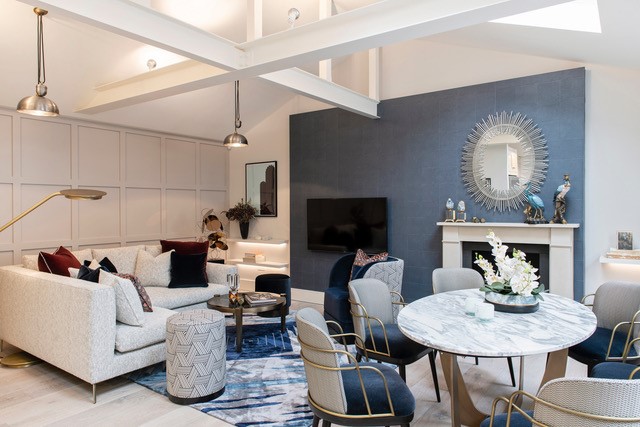 Our experience working with Hudsons was excellent. From our first meeting to completion (which was unusually swift!), we had a harmonious, mutually respectful relationship. We wouldn't hesitate to recommend them.
We have used the services of Hudsons for nearly 20 years. Robert Burwood, one of the Directors, kept the flat leased for virtually all this time and so, when it came to sale they were the natural choice. The Company has been so impressive that they have been appointed as block managers. Simon Bray was tasked to sell the flat which he accomplished with great professionalism. He worked with both sides and the legal teams to bring the sale to completion. We highly recommend the team.
David Carman
Artio Holdings Ltd, W1
I have used many estate agents down the years and I have not always been impressed. Hudsons and Simon Bray in particular have been something else.They provided honest , informed advice and maintained excellent communications throughout. They found a buyer in a difficult market (from Singapore) and nurtured the buyer ensuring the sale went through even when things became difficult. They liaised outstandingly well with other professionals on both sides. I am immensely grateful.
I am so impressed by the property management service that Hudson's are providing me with. As it was the first time I was using a property manager for my rental investment I was nervous about who to go to. I am currently living in the US so I wanted and needed a company who were really on the ball and who made sure my tenants were always looked after, if and whenever they had a question or problem. I have come to believe that Hudson's is a highly professional property management company with a very polite and hard-working staff. I would recommend them to anyone looking for help with their rental property.
I take the opportunity of this email just to let you know that Sandrine Locatelli is a great value employee in your agency. She helped me to find my first flat very quickly - and she was absolutely amazing during the last three weeks, in an emergency situation. I complain when I m not happy (French origins) - but I think it's also important to emphasize people's qualities when they're efficient. Great service is high value and she offered me great service, in complicated conditions.
We recently put a bid in on a property but were unfortunately unsuccessful, nevertheless I just wanted to write a big thank you to Margaret and to let the Principal of the Company know how great she was. Throughout the process she bent over backwards to help us, opening the property at various times and was always very knowledgeable and very helpful. She even stayed late one night beyond her finishing time at the property so we could get some measurements done. I was really impressed with her work, and when the time does come for me to buy a property, will have no hesitation in approaching Hudson's first as a result of her efforts. I am really very grateful for all her help.
In the buying, selling and letting of property in London: Covent Garden and Fitzrovia particularly, none can compare to the personal attention of Hudsons. In well over a decade, the wise guidance, knowledge and accessibility of it's founder Jonathan Hudson has been to me a constant. His loyal staff are polite and prompt in response, with Hannah Copues and Sandrine Locatelli impressively informed and helpful with regard to maintenance and lettings; keeping me in the loop at all times. In other words they inspire trust. A vital ingredient if one is unable to be on hand. As with Sherlock Holmes, Hudsons are always on the case.
Unlike any other, Margaret has been professional, transparent, and realistic, in helping me to find and buy a property. She was pivotal in the on-going transaction between me (the buyer), my solicitor and the vendor and his solicitor towards the purchase of the property. As a mediator between buyer and vendor and their solicitors, she was never intrusive but always kept everyone engaged, professionally, a very distinctive feature as most other estate agents tend to be pushy and down right rude! It is people like her who will always shine in your business given most things now can be retrieved from the internet; she has something extra to offer in ways I have described above that an internet website can never do. This survey does not accurately explain the excellent service provided by Hudson's Margaret Connerty.
I was happy to use Hudson's as I have lived in the area for many years and so got to know the area and the companies I would wish to do business with and Hudson's was one of those companies. As they are a local company, and have been here a long time, they know the area and its specific details, it's history along with its future and character. When you're looking to sell a property there are so many factors to take into account and Hudson's did tick all the boxes as far as I was concerned. So I sat back and let them do all the promotion and selling and my flat sold quickly. I have no hesitation in recommending Hudson's to potential buyers and sellers.
It is my pleasure to recommend Hudsons as a lettings agent for any individual or company searching for the ideal location in the West End for their business situation. As a member of the Finance Committee for a church in Marylebone it was imperative for me to find new tenants for our investment property following the vacation of a long term tenant
Jon Cooper
Our Lady of the Rosary