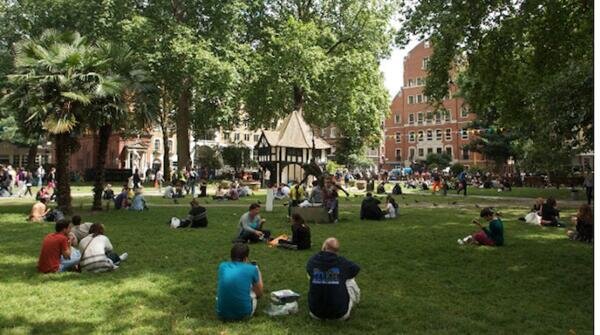 Urban nature: six of the best squares in central London
London is blessed with historic squares offering green space in the heart of the city. From famous and tourist-frequented areas such as Soho, dating back to the 17th-century in a nod to renaissance Italy, to Bloomsbury and Westminster, which followed the trend in the 18th-century, attractive green spaces lined with railings and trees are part of the charm of central London.
Some are garden squares, private spaces only to be used by residents of the prime properties that overlook them, while others are for public use. Here are six of the best you need to visit when in London.
Cavendish Square
Top of the list of garden squares in London is one of the West End's most elegant Georgian squares, steps from Oxford Street. Cavendish Square was designed for the second Earl of Oxford as his large London estate in 1717. The square is lined with impressive Georgian architecture and mansions originally built for aristocrats and nobility. It retains an air of luxury and exclusivity.
Planted with tall, mottled green trees, that famously line the streets of central London, it's a serene spot. The square features a beautiful bronze statue of Lord George Cavendish, after whom the square is named. The much-publicised redevelopment of Cavendish Square is set to be a 280,000 sq ft mixed-use development, a subterranean complex in the original 70's car park. The development aims to restore the square to its former glory while modernising it with retail and office space.
Manchester Square
Built in the late 18th century on what was then the outskirts of the City, this well-preserved little garden square in Marylebone was originally created for the 4th Duke of Manchester. Unsurprisingly naming his grand home Manchester House, it later became known as Hertford House and now houses The Wallace Collection.
Today, a circular path hugs a lush central lawn surrounded by mature plane and lime trees. The serenity was disrupted during WWII when trenches were dug and tanks for emergency water installed. The square retains its original Georgian terraces and architecture, providing a quiet oasis amidst the bustle of Marylebone.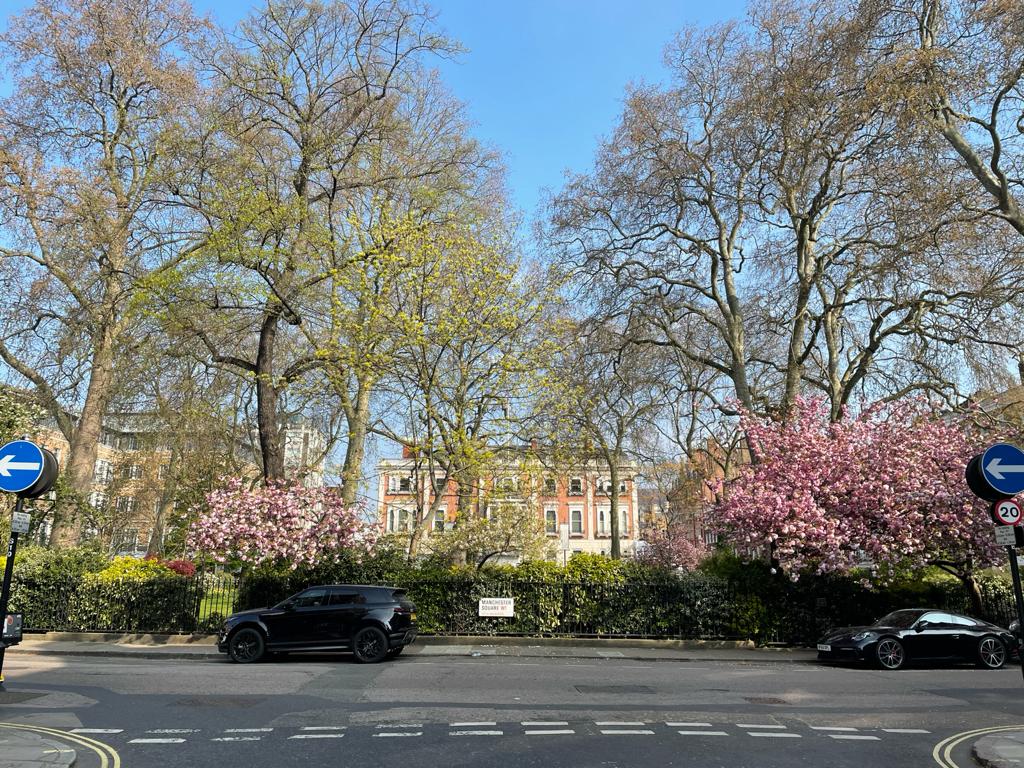 Portman Square
A peaceful private garden square, Portman Square is lined with Regency townhouses and shaded by those ubiquitous plane trees with a generous lawn, winding paths and a tennis court. The square was built in the 1780s by Henry William Portman and originally had a chapel at its centre. It remains an exclusive residential address with several foreign embassies located on its edges. The central gardens are strictly private but provide a leafy view for passers-by.
Soho Square
Now a sweet spot for a sandwich in the sun and a break from the buzz of the central London, Soho Square dates to the late 1670s, when it was originally called King Square after Charles II. A ghost-like, time-worn statue of the king can be found in the square today, but most of us only notice the half-timbered mock-Tudor cottage that was built in 1925 as an access point to the electricity substation beneath it.
Soho Square has a fascinating history – originally a fashionable place for nobility to live, it later became home to publishers, political thinkers and artists. The central gardens were neglected until the late 1800s but are now a popular lunch spot with Soho-based workers. The square retains its vibrant, creative energy.
Russell Square
London's second-largest garden square in the heart of Bloomsbury was landscaped in 1800 by designer Humphrey Repton. Surrounded by gorgeous hotels, museums and London landmarks including the British Museum, the Brunswick Centre and UCL, it's a serene central spot.
The grade II listed gardens were given a major facelift in 2002 including new planting, a 10m-high fountain and glassed-in café. Mature trees from the original plantings remain, providing shade for visitors. Russell Square has literary history as the home of Bloomsbury Set writers like Virginia Woolf. The classic architecture backing onto the square includes the Hotel Russell, built in 1898. The green space provides a calm escape from the bustle of London.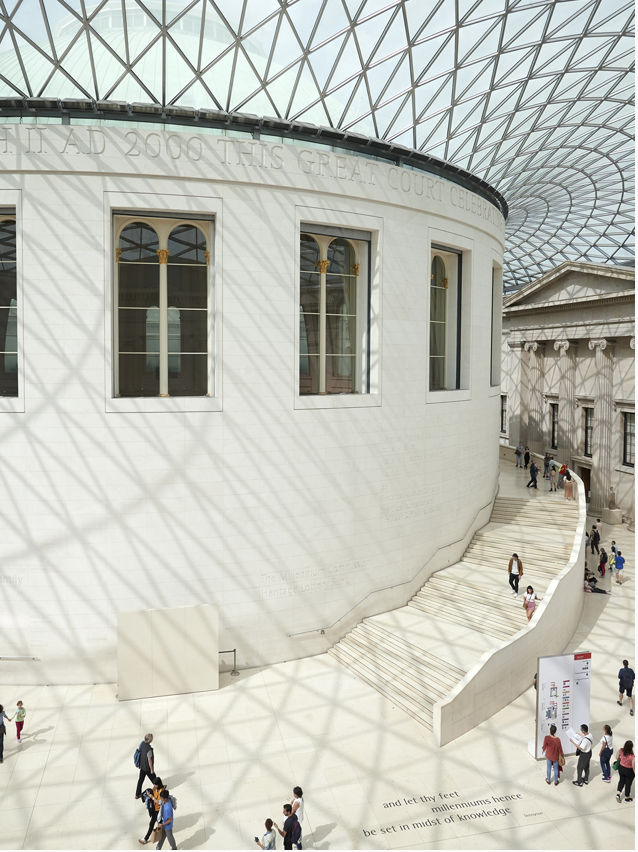 St James's Square
St. James's Square is surely one of London's most elegant garden squares, epitomizing Georgian architecture and design. Located in the exclusive St. James's district, the square was laid out in the 1660s and features a central equestrian statue of King William III dated 1808.
Surrounding the square are fine Georgian townhouses, many with blue historical plaques denoting famous residents like Nancy Astor and Frederick Marryat. The architecture reflects the aristocratic status of past inhabitants. St. James's Square maintains an air of exclusivity and history, providing a green oasis surrounded by the stately buildings of another era. Take time to admire the details of the architecture and learn about the square's prestigious past from the information boards.
London is packed with beautiful and historically-rich spots to discover, and as a resident here, you won't be short of places to uncover. For luxury properties in central London, expert advice and more useful blogs, see Hudsons Property.