Hudsons 20 Year Journey
20 20 Vision
Twenty years ago, with the help of selling my prized car and a part share in a rental property, I set foot into the world of being a new business founder. It was just at the right time as I had recently turned 30, which was a good opportunity to stop and look at what I had achieved so far. Taking stock of my life at that stage enhanced my burning desire to create a property company that not only aims to do it right but also embraces the huge changes that were just about to happen within PropTech (although it wasn't called that 20 years ago!). Those initial changes started with online browsing rather than shop window and local newspaper advertising for property which meant if I could embrace this change and be an early adopter we would be ahead of our competition!
I had already worked in the industry for 14 years so what was there to be scared of? Well, I heard that 1/3 of businesses don't last 12 months and only half last 5 years. Twenty years later and here we are! I knew what customers were looking for; honest and professional advice every time. I also knew what they didn't like, all of which formed part of my experience and knowledge that I could call upon in this new venture. I wanted every phone call to be a great experience so when customers put the phone down, they felt we exceeded their expectations and reassured they were dealing with the right people. And so it began.
The first thing was to choose a name. After a little deliberation my surname was the chosen one; a strong name I was reassured by Monty Verdi my designer and Steve Harris the website builder.
So the next item was to build a cutting edge website around our newly created brand and easy to use for the new wave of online property hunters. Believe or not this was our first website which really was ahead of the curve at that time in 2002 and beside it, 20 years later, is our latest version. Technology has certainly changed as have our customers needs so being agile and keeping ahead of these changes has been a major part of our ongoing improvements at Hudsons.
| | |
| --- | --- |
| 2002 | 2022 |
Even in the early years floorplans and professional photos were missing for most within the industry but we adopted this early making sure every property was showcased in the very best way. Nowadays we even make bespoke videos and 360 tours for all the properties we represent.
After a brief stint at no 20 Charlotte Street we moved to our present location at 24 Charlotte Street. The changes of design and feel are very obvious.
| | |
| --- | --- |
| 2005 | 2017 – Now |
In 24 Charlotte Street, we still have a nice welcome reception area, meeting rooms and the team all work upstairs which even back in 2005 was quite unusual – but I wanted customers to be greeted in a more professional friendly manner, rather than walking into an office with all eyes on them. Whilst the format has remained the same the environment for both customers and our staff has definitely improved over time.
Lettings was the bread and butter of the business early on as we then went on to add property sales and property management to our list of professional services. The main key to great business success is having a great and trusted team around you who are passionate about property and customer service.
Employees have come and gone but the important ones who have helped make our history have stayed long term, like Nicole Halliday who has been here since 2002, Simon Bray since 2007, Robert Burwood since 2008 and Spencer Botchin since 2017. That's also not including long-serving stalwarts of the Hudsons ethos like Sandrine Locatelli in lettings who was here from 2008 to 2021 (13 years). I have many other employees who have played a very important role in making Hudsons' success over the last 20 years and they will know who they are. We never underestimate the importance that continuity has played in our success developing relationships with customers who deal with familiar faces who know them and their properties.
Some said it was the greatest secret being your own boss and whilst I wholeheartedly agree, it doesn't take away the sheer hard work, time and attention to detail it takes to make sure Hudsons is continually reaching its service goals. More hard work and dedication also goes into innovating to create a better customer experience and of course making corrections for the occasional times when we dip below that – Like Henry Ford once quoted, "Quality means doing it right when no one is looking".
The financial crash in 2008 was a very testing time for everyone globally but I think the most testing time was in 2016 when the market didn't move much at all. Sellers had high aspirations but buyers did not, so there was a standoff which caused transactions to drop. Even during Covid there continued to be movement and we were one of the lucky industries that, although affected by the lockdowns, remained open, except between March to May 2020.
Ultimately, our business is nothing without our customers, many of whom have remained loyal for the entire 20 years, while new customers have placed their faith with us knowing our reputation as one of the very best in the area. There are no shortcuts to success but we have always given the best advice for our customers, even if in the short term we earn less revenue because that is the right thing to do. Exceeding expectations at every door is what we strive for and I look forward very much to the future to continue to service our community.
Changes – Now and Then
Agency has changed and technology has created great innovations with now fully professional photographs, floor plans on all properties, 360° virtual and tailor-made videos on each property to help with tenancy preparation and management to the much wider use on property portals like Rightmove, Zoopla and On the Market. We did still have mobile phones 20 years ago, however, even those have become little carry round computers that allow us to work remotely or on the hoof.
The biggest change is the look and feel of websites, looking back at our first website compared to our recently launched version they really are streets apart in look, functionality and ease of use. here is our mobile version as the majority of customers visit hudsonsproperty.com on a mobile device.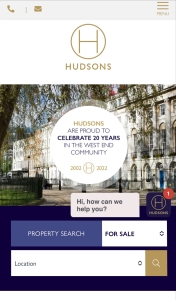 When we started out we had the Hudsons Mini buzzing around town on appointments but now mostly everything is done on foot in comfy leisure shoes rather than proper shoes. We lost the Hudsons mini as it took longer to park it than to walk to each appointment in the end but it was great whilst we had! So comfortable shoes or a bicycle are our best means of transport these days!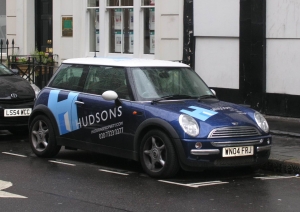 We've also gone from suits to smart casual trousers and jackets (we never did the tie back then anyway!).
The areas have really changed too – for example, from the rat run that Tottenham Court Road used to be to the more sedate two-way road that is now. Other areas are nowhere near as traffic-filled as they used to be, as is evident in many of the locations we cover like Long Lane and Covent Garden, which now feel more like a pedestrian-only street. Baker Street in Marylebone has changed too.
Listed below are some of the changes in both rental and sales prices since we started 20 years ago. It shows you the value of keeping hold of a West End property asset over a longer period!
2002 v 2022 – Rental Market
Bloomsbury WC1

1 bedroom flat
2002 Rent £350 pw
2022 Rent £550 pw

57% increase
Covent Garden WC2

1 bed
2002 Rent £300 pw
2022 Rent £500 pw

66% increase
Fitzrovia W1

2 bed
2002 Rent £550 pw
2022 Rent £900 pw

64% increase
2002 v 2022 – Property Sales
Park Road, NW1

SOLD August 2002 for £1,225,000
NOW on the market for £4.15m.

238% increase
Gresse Street, W1

SOLD 2001 for £172,000
NOW on for £570,000.

231% increase
43a BCM WC1

SOLD April 2004 for £275,000
NOW on for £850,000.

209% increase