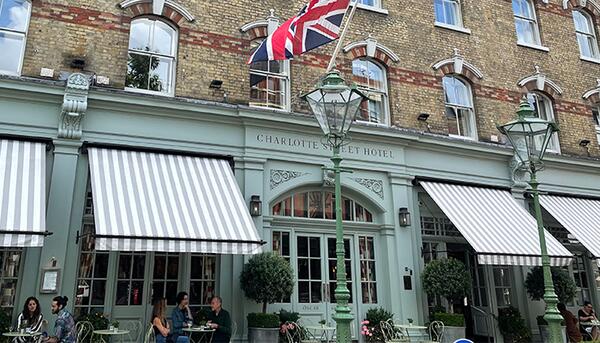 Fitzrovia Rising: Exploring one of Central London's Most Intriguing Districts
Fringed by Bloomsbury and Marylebone, rubbing shoulders with Oxford Street and Euston, Fitzrovia is a small pocket of central London. Filled with elegant Georgian homes and leafy garden squares, some of London's best pubs and restaurants, new media companies and London landmarks, it's an energetic neighbourhood that doesn't stand still.
Reports differ as to who or what the neighbourhood was named after, but most cite the Fitzroy Tavern as the inspiration. This classic redbrick Victorian boozer with a prominent corner position on Charlotte Street (and Windmill Street), retains the vintage look with cosy mahogany panelling and pretty mosaics. Famous literary figures including George Orwell, Virginia Woolf, George Bernard Shaw and Dylan Thomas, part of Fitzrovia's bohemian past, used to gather here. There's no shortage of places to drink in this tiny central London district, with around 40 pubs to choose from.
Another corner bar on Newman Street, Mr Fogg's House of Botanicals is a good-looking palm and floral-filled themed spot for experimental, botanical-inspired cocktails, some served in Victorian teacups. For fans of feminine décor, high ceilings draped with ivy and blossoming flowers will no doubt inspire your home or your garden decor.
Fancy some wine and cheese with your bespoke suit? Lab Woolfe, a savvy tailor on Percy Street, have created three-piece suits for Benedict Cumberbatch and Robbie Williams. A clever addition was Gargotte, an antique-lined addition to the atelier, with bistro tables perched on the pavement for nibbling charcuterie and cheeses washed down with carefully selected wines.
One of the joys of this area are the surprises waiting down skinny side streets. Step back in time to Dickensian London, cutting down atmospheric, cobblestoned alleyways such as Newman Passage, which links Newman and Rathbone Street. As you exit onto Rathbone Street, passing under the Newman Arms pub also frequented by those literary drinkers George Orwell and Dylan Thomas, look up to see the mural of a woman in a top-floor window, a reminder of the building's former past as a brothel. Newman Passage swerves into Percy Passage emerging onto Charlotte Street, right by the Charlotte Street Hotel. Inspired by the Bloomsbury Set, this gorgeous sage-green fronted stalwart sees local media wine and dine on Modern British classics at Oscars tapestry-lined bistro named for the films screened in the hotel's popular private cinema.
Fitzrovia is now known for its lively food scene, with Charlotte Street particular, home to so many of the area's best restaurants, with existing and new places to satisfy the local media businesses including Facebook's new headquarters. Roka woos diners with an open kitchen where chefs prepare crowd-pleasers such as their signature black cod marinated in yuzu miso or refreshing tonka bean desert. Monica Galetti's Mere restaurant blends classic French with Samoan-inspired dishes in minimal setting. Minutes away, relative newcomer Circulo Populare, transformed the corner of Rathbone Square into a dreamy, OTT Sicilian-inspired trattoria run by an ex-Ivy GM with twinkling lights, flower garlands and 20,000 bottles of wine (also visible from the entrance to the square).
If you fancy living among such original and historic spaces, blending history and contemporary construction, one of the latest major projects in Fitzrovia is Bedford Passage Development, creating apartments and townhouses with terraces and courtyard spaces. The developers are also forging a modern-day cut through from Charlotte to Cleveland Street in the form of Bedford Passage. Hudsons will be offering a selection of residential units by early next year.
For properties in central London, expert advice and more useful blogs see Hudsons Propertyblog