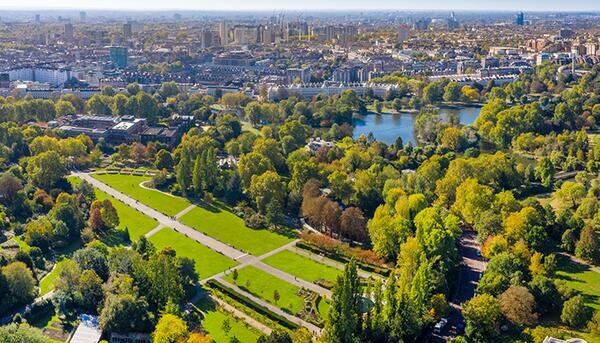 What's on in London in June 2021
Open Garden Squares Weekend 12 June 2021
This annual event – just one day this year and not a weekend – usually allows us to nose into hundreds of often restricted and private gardens including those in historic buildings, squares, roof terraces and award-winning community spaces. This year's event is online, so you'll get to explore London's green spaces virtually, learning from those who maintain such special spaces on a 90-minute interactive live show presented by TV presenter and inner-city gardener Sarah Greene. The event runs from 5:30pm – 7pm tickets £10, bookable online via the London Garden Trust website and available on demand until 12 July.
The London Festival of Architecture Until 30th June 2021
The world's largest annual architecture festival is a design lover's dream. A month of events and activities taking place across London includes physical and digital events around the central theme of 'care.'
Highlights include BARE Design Studio's #HomeVisions19 which involves homeowners sharing photos of their spaces and dreams, architects will respond by posting their sketches of solutions. Funds raised from their sale will be donated to charities helping people in the Covid-19 crisis.
No longer just open to architects to create well-known London buildings in cake form, this year anyone can enter the Architecture Bake-Off from the comfort of their own kitchen. The winner bags a Special Edition Smeg 50s Style Stand Mixer, from the event sponsor.
It's good to see walks on the menu. The activity of lockdown gets a twist blending IRL walks and tours with digital only. Illuminated River is a free public art installation bathing central London's bridges in an environmentally conscious lighting solution created by lighting designers Atelier Ten. A free PDF guides you around the 2.5-mile tour which you start after 9:30pm, when the lights come on, until 2am each night. More info on the entire event here
Regent's Park Open Air Theatre 17 June – 25 September
Stay outside in the summer air for Regent's Park Open Air Theatre's productions set among the lush Royal London parkland. From Shakespearean classics such as Romeo and Juliet, running from 17 June until 24 July, the season runs from until 25 September, climaxing with Rodgers and Hammerstein's Carousel musical. Ticket prices vary between shows and range from £10 to £65 for adults; £10 to £48.75 for children. See website for more information.
British Flowers Week at the Garden Museum 10-15 June 2021
Admire sustainable installations made by five of Britain's top florists during this week-long floral tribute to the UK's best blooms. Neighbouring Lambeth Palace and housed in an old church, the Garden Museum's annual British Flowers Week exhibition is back from 10-15 June 2021, in partnership with founders New Covent Garden Market. This year's theme is healing so expect sculptures that relate, from medicine gardens to the soothing properties of herbs, and the positive effect on mood and mental well-being. More information and ticket prices. Book tickets via the website: Adults £12; 7-18s £7; under 6's free.
For properties in central London, expert advice and more useful blogs see Hudsons Property