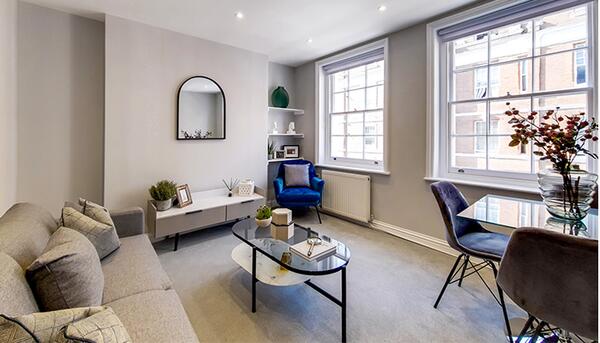 How Home Staging Helped Sell a Tired Period Property
We've talked before about the power of staging your home or rental property and this blog highlights the impact of professional interior styling ahead of putting it on the market. Showing your property in the best light, free from clutter and personal effects, but with good looking, aspirational pieces, requires the art of staging. Home staging means the photographs will draw initial interest to view, then when potential buyers walk in the door, they'll be even more impressed. Staging has also been proven to increase the price achieved and shorten marketing time.
Let's look at one of our prime properties, Cranfield Court in Marylebone. The area is undeniably appealing, with the village-like hub of Marylebone High Street's enticing mix of restaurants, cafes and boutiques and Regents' Park close by. Which is what enticed London-born actor and singer Mark Wynter to buy here many years ago. After renting the apartment out for 15 years he recently decided to put it up for sale. But before it went on the market, he knew it needed a complete refurbishment with some professional staging as the icing on the cake.
Living Room
Before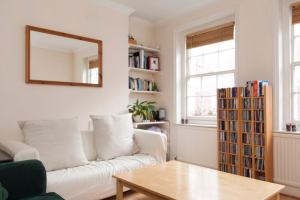 After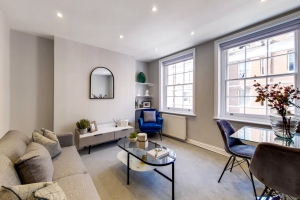 The attractive one bedroom, second floor apartment housed in a handsome period block had location and character in its favour but it's doubtful it would have received an offer within a week of going on the market without post-renovation staging. The high ceilings and period charm were more noticeable once treated to fresh paint, new flooring, sleek kitchen and bathroom topped by savvy staging.
Now it's bathed in soft grey and fresh white with pops of inky blue and warm wooden flooring. Colour and texture combine to great effect. The living room benefits from light-giving sash windows you can admire the southerly view from the on-trend sofa as well as attractive autumnal art and foliage. There's also space for dining at the well-placed glass table with grey velvet seating, while the refurbished kitchen is bright, white and neat with rooftop views. In the cosy double bedroom, there's a well-dressed bed and a generous amount of smoothly painted built-in storage and the up-to-date bathroom blends fashionable vertical tiles and shiny, chrome fittings.
Bedroom
Before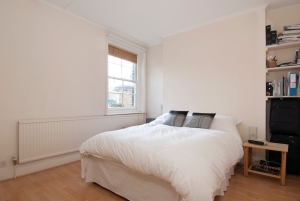 After
The result of such effort? The first buyer to view the apartment put in an offer close to the asking price and 5% higher than the last sale in the building.
Hudsons and The Space Consultancy offer sole agency sellers the opportunity to use our bespoke furniture sourcing service with individual furniture packs for clients, from landlords to international investors, with an exclusive 0% finance offer (subject to terms and conditions, please call 020 7323 2277 for more information). We'll deliver, install, style and dress the property leaving it ready to be photographed and put on the market.
Looking for hot properties in central London, expert advice and more useful blogs? Go to Hudsons Property