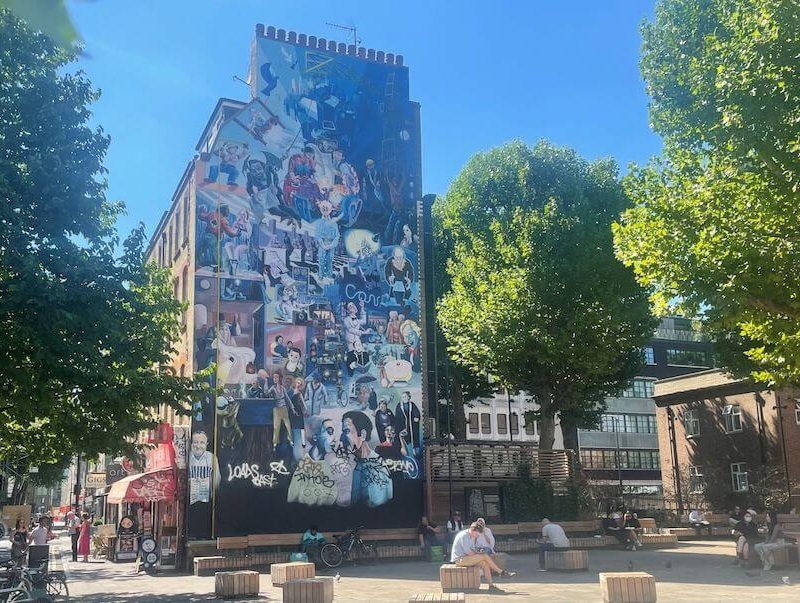 Fitzrovia Rising: The Historic London District That's Ever Evolving
Last week we highlighted the atmospheric pubs, alleyways and restaurants of this diverse residential area. With too much to say in just one piece, we're taking another look at Fitzrovia, this time focusing on the garden squares, cultural attractions and iconic landmarks.
While we're talking about landmarks, the 191-metre-high BT Tower on Cleveland Street was the highest structure in London when it opened in 1966. Visible from most of central London, the steel and glass listed building is still in use as a communications hub, although the slightly more glamorous revolving restaurant on the 34th floor closed in 1996.
On the corner of Scala Street, a landmark of another sort altogether is deeply sewn into the fabric of Fitzrovia. The oldest toy museum in the UK, Pollock's is a family run business housed in a pair of well-worn 18th and 19th century townhouses. The cheerful green and red facade has beckoned visitors, including David Bowie and Robert Louis Stevenson into the quirky space crammed with mainly Victorian board games, theatres, doll's houses and puppets. On Saturday 14 August, the Fitzrovia Féte 2021 will be a day of free Punch & Judy puppet shows and toy theatre performances.
Built on the Royal Mail's former sorting office site, Rathbone Square is one of London's newest garden squares, designed by Gustafson Porter + Bowman. Cleverly designed to draw in visitors and passers-by, nature has been used to great effect, with a rich green lawn framed by a timber bench, pretty trees and original water features – two over-spilling tables reflect the trees and plants. Despite being steps from Oxford Street, the mixed-use space is serene, blending commercial, residential and retail, including Facebook's new UK headquarters and the crazy-but-charismatic Circulo Populare restaurant.
At the top of Berner's Street, embraced by Pearson Square, Fitzroy Place is another newly developed square on the site of a London landmark building, this time where the former Middlesex Hospital once stood. What remains from the area's past is the diminutive 19th century Fitzrovia Chapel, built for the hospital governor chairman, restored and open for secular weddings and tiny exhibitions. Hard to describe without resorting to cliches, stepping inside feels as if you've entered a giant jewellery box, inlaid with glittering mosaic tiles and shiny marble. Here also are high-end, sleekly styled shops, restaurants and apartments.
But let's not forget Fitzrovia's original garden squares. Built for London's aristocratic families in the 18th century, close to the BT Tower, Fitzroy Square is a Georgian townhouse lined pocket of greenery with a distinctive circular lawn where a house without one of London's famous blue plaques is a rarity. It became famous for its less aristocratic, more bohemian residents, including George Bernard Shaw and Virginia Woolf who both lived at no. 29, albeit in different eras. More recently, novelist Ian McEwan lived at no. 11 and Guy Ritchie owned 34-35. The square's 1970s revival saw the addition of Naomi Blakes's tactile sculpture as the square became lined with embassies, including Mozambique, Croatia and Liberia.
For properties in central London, expert advice and more useful blogs see Hudsons Property