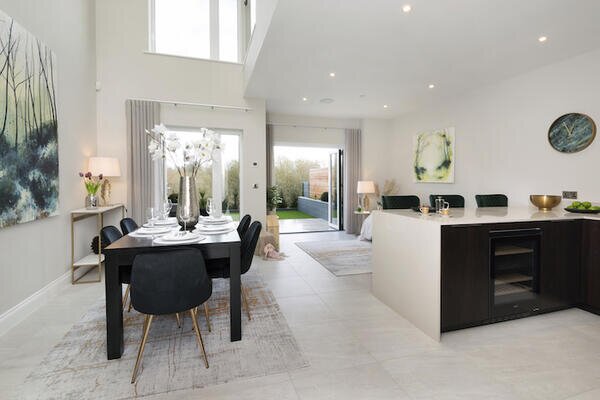 Staging a home for sale: Save time, make money!
Think home staging is just a fad? Think again! We look at how you can increase your property's value, entice viewers and beat the competition.
Even the most stunning properties are overlooked if viewers can't envisage themselves living there, with more buyers shopping for homes online; it's safe to say that maximising a property's interior appeal can be a significant payoff.
That's where home staging for sale comes in. For those that haven't heard the term before, it's a room-dressing service carried out by experts in interior design, with specialist knowledge of what it is that's going to help sell your property.
What is home staging?
'Home staging is the act of professionally preparing a property for the market, whether it's for sale or rental,' explains Paloma Harrington-Griffin, founder of the Home Staging Association (HSA). 'Staging is a fantastic property marketing tool and has been widely used to enhance a property's best features and appeal to the potential buyers via the emotional connection it creates.'
Once thought of as more of an Americanised concept, these days companies large and small are seeing the benefits of kitting out an empty property to show how a home can look to prospective buyers and ensure it's Selling Sunset-worthy. 'We always say "You only get one chance to make a first impression"', says Zaid Shuhaiber, director of London-based interior design studio Casa e Progetti. 'The moment someone steps into your home or sees photos online, they make up their mind within the first few seconds. It's imperative to stage a home to ensure that buyers see it in its very best light.'
Let's talk about the benefits of home staging
If you think home staging is without its advantages, you'd be very much mistaken – and the proof really is in the pudding. According to the HSA's Home Staging Report 2020, a whopping 85% of estate agents reported that staging a house for sale moved the property thrice faster than non-staged property, whilst offer values for staged homes increased by about 10%. Based on the average price of a West End two-bedroom apartment of £1.2 million, an increase of £120,000 can be achieved. Besides, 100% of developers and agents agreed that home staging increased the number of viewings. In addition to reducing your property's on-sale time, you can expect to maximise its value, help justify its asking price and even attract high-quality prospective purchasers with good home staging.
'Potential buyers spend more time viewing a property that is staged,' says Harrington-Griffin. 'It allows them to visualise themselves in their new home, putting them one step closer to closing the deal.'
Another benefit of putting home staging into effect is that you won't have the capital outlay and ownership of buying furniture. Every room is decked to stand out, with all furniture and accessories taken away after an agreed rental period. The home stager will also tailor your interiors to suit the property, the area and demographic, so it's a truly bespoke service.
What's the cost of staging a house for sale?
Preparing a property, whether for sale or lettings, allows a landlord to charge premium rent and will always cost less than the first price reduction, so it's definitely a worthwhile investment, Harrington-Griffin goes on to say.
Shuhaiber agrees: We recently completed a show home, which was sold just a week after launch for the UK's largest developer, for over £3m – the developer also won the Evening Standard Homes & Property award for the best house over £1.5m in London!'
So, we know of the benefits, but what is home staging likely to cost you? 'Fee is dependent on the scope of the project and the size of the property,' says head of the commercial at Burbeck Interiors Grace Willcocks.
Lazer Levy of east London's L&J Interiors adds: 'Our fees are varied but, on average, for a two-bedroom apartment you'd be looking at £4,495 plus VAT, for three months rental – and that's inclusive of delivery, removal and styling.'
How does it work?
Most home-staging companies will start with a phone or online consultation, following up with a site visit and finally a design proposal. Once the proposal is signed off, it's on to the delivery and installation, which usually takes a day or two. Finally, the collection of all furniture and accessories will be around eight to 12 weeks after the installation, unless agreed otherwise.
Alternatively, suppose you're only after images for online viewings and aren't worried about leasing interior pieces, you could look at virtual staging, whereby furniture, fixtures and fittings are added to pictures of empty rooms via photo editing. For this, you'd be looking at around £25 per image.
Find out more
For more information and to find an accredited home stager, visit www.homestaging.org.uk. If you'd like to talk to the team at Hudsons Property about your property plans for 2021, why not get in touch now?