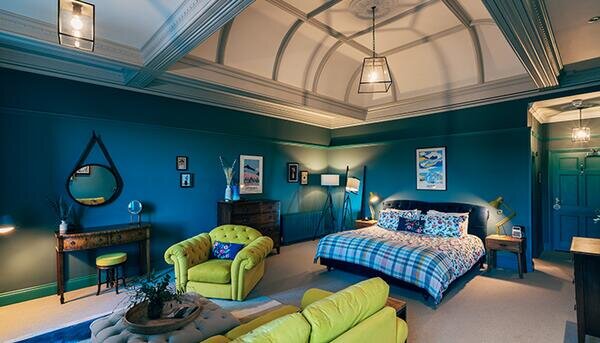 Hotel inspiration for interiors lovers
Freshly re-opened as lockdown rules ease, Ham Yard Hotel became their eighth London property when Firmdale Hotels owners Tim and Kit Kemp created a new build on a deserted plot in Soho. Guests loves Firmdale interiors for their unmistakably English style and Ham Yard keeps up admirably.
Firmly defined spaces are vital to the 'urban-village' ethos here and the urban-country design they invented. Step away from the Soho streets, passing oak trees and a Tony Cragg sculpture on your way in. Just off reception, the library is deeply feminine with floral upholstered armchairs recovered in 'Chainstitch' linen by Hazelton House, during a Lockdown makeover, and easy, natural shades. Known for their colour, textures and textiles, Kit wove in strong colours, with up to eight-foot pieces of eclectic art adding balance complemented by fun Objets d'art.
Upstairs, rooms are blessed with floor-to-ceiling Crittal windows which bathe the bespoke and vintage furnishings with natural light. Well ahead of the interiors curve, Kit used green, a strong trend this year, which she describes as 'the colour of life, hope, energy, and nature,' installing an intricately appliquéd signature headboard with an elaborate floral design in the Terrace Suite.
From the humble beginnings of a trailer park sprung this collection of design-led villas and lakeside lodges dotted around 45-acres in rural Lincolnshire. Last year two super villas joined the growing family of multi-faceted accommodation, each sleeping 24 in two wings. Both villas share a luxury of both space and design elements including an outdoor heated pool with retractable glass cover, two Villeroy & Boch hot tubs (that's per villa) and twin-fridge kitchens almost entirely kitted out with Le Crueset. When it came to interiors, it would have been easy to follow the simple soothing rustic look, but owner Simon Craddock had different ideas.
Enter designer Karen Robson, who incorporated current interiors trends into her own signature style, blending maximalist bold colours and prints, not afraid to mix both in the same space. Both villas are designed as siblings, not twins, so the kitchen in the English Garden villa is carnation pink, while the English Country Villa's is peacock blue.
With the central living, dining, kitchen areas so large, it would be easy for guests to feel a tad overwhelmed. Custom-made oversized sofas help such large social areas feel enticing and homely. Headboards were also custom made. As Karen explains: 'I recommend bringing instant colour and a luxurious feel to a bedroom with a striking upholstered headboard.'
The English Country Villa is inspired by the local wildlife with a generous pinch of country lodge and a dash of gentleman's club. Bedrooms feature Mulberry's iconic 'flying ducks' wallpaper, while antler chandeliers hang above the dining table. The library area is painted a rich red Farrow & Ball Radicchio.
In the English Garden Villa, Simon was keen to create a sense of the outdoors inside and a botanical theme runs throughout the bedrooms with botanically inspired wallpapers and fabrics such as the Orchids in the Terrariums by Sanderson wallpaper and the peonies on the Designer's Guild fabric.
In the hallway, lit by large picture windows, a giant school-style wooden bench painted red reaches up to the ceiling. The door is guarded by a bulldog statue where others might place a Buddha and there are plastic cows in the garden. It's all about being eclectic, you see.
Describing Another Place, The Lake hotel as a rural retreat can conjure up rustic images, however the Georgian-meets-modern country hotel inspired by the watery ribbon of Ullswater lake is anything but. Different spaces were designed with different moods in mind. So, informal seating areas and calming neutral tones aim to relax guests from the moment they enter while The Living Space is cosier to create an instantly at-home feel.
As CEO Will Ashworth says, 'Interior design is at the heart of Another Place and is a continual part of our journey.'
Naturally, enormous expanses of glass are used to frame the views. The Swim Club glass-walled pool area allows guests to feel they are swimming towards the hills, bathed in slate grey, green and red accents mirroring the scenery.
The hotel doesn't stand still when it comes to interiors. Guest designers waving their magic wands over the hotel's suites include Hannah Coates, art director at clothing brand Joules, whose eponymous Joules Suite brings in nature with bold daffodil yellow sink-into armchairs set against the backdrop of Farrow & Ball's smoky Inchyra Blue paint on walls.
Their latest guest designer is the winner of the last series of Interior Design Masters with Alan Carr on BBC Two. Lynsey Ford, a former architect whose dad hails from the Lakes, will continue the outside in theme with warm colours such as orange and rich textures like velvet, along with recycled, sustainable pieces and eccentric headboards. It's now planned to be ready for early 2022, meaning something exciting to look forward to next year and some more interior inspiration.
For properties in central London, expert advice and more useful blogs see Hudsons Property